2020-2021 School Board Members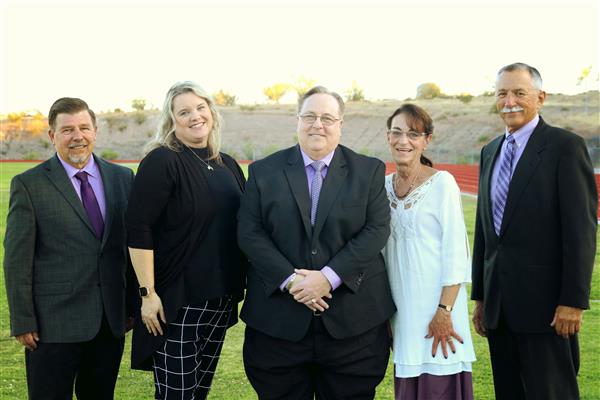 Governing Board Agendas and Minutes
Pursuant to A.R.S. § 38-431.02, the Wickenburg Unified School District #9 Governing Board meeting agendas are posted at the Wickenburg Unified School District Office, located at 101 East Coconino Street, Wickenburg, AZ, and the Wickenburg Unified School District Website (www.wickenburgschools.org). Meeting information is available online through BoardDocs.

Please click here to be taken to the BoardDocs site.

Please note: Items may be added to or deleted from the agenda up to 24 hours prior to the Governing Board meeting.
WUSD Governing Board Meeting Schedules
WUSD Governing Board meetings are scheduled on the third Tuesday of each month at 5:30 p.m. (unless otherwise noted) in the WUSD Governing Board Room located at 101 East Coconino Street, Wickenburg, AZ.

All WUSD Governing Board Meetings are open to the public. If you have any questions regarding Board Meeting topics or schedules, please contact the District Office at (928) 668-5350.

Due to Social Distancing Guidelines, seating will be extremely limited. The meeting will be streaming live at www.wickenburgschools.org/live.

2020/2021 WUSD Governing Board Meeting Schedule
Our Board
The Wickenburg Unified School's Governing Board is comprised of five elected community members who assist our District in delivering the best possible educational opportunities for our students. In addition to helping establish effective District policies, they volunteer their time helping District administrators set policy, hire and retain quality staff, and encourage parent involvement.

Joe Maglio, Board President
Mr. Maglio has been a member of the Wickenburg community since 1993 and is a business owner and agent with American Family insurance in the downtown area. He has two beautiful daughters. He is a member in many community organizations, which include:
The Town of Wickenburg's Board of Adjustments (since 1997), The Wickenburg Citizen's Patrol (since 2006) and The Wickenburg Unified School District Governing Board Member (since 2009).

Sandee Gill, Board Member
Ms. Gill has been a resident of Wickenburg and the surrounding area for 34 years. She has three grown children (all Wickenburg High School graduates) and four grandchildren. She is active in the community and has been a member of Friends of Music for 30 years (currently serving on the board of directors). She recently retired from APS where she had worked since 1984.

Randy Hodges, Board Member
Mr. Hodges has been a resident of Wickenburg for 26 years. He has three adult children and six grandchildren. Mr. Hodges is retired from APS with 34 years at the Palo Verde nuclear power plant.

Susan Webster, Board Member
Mrs. Webster moved to Wickenburg in 2012 from Colorado. She grew up in North Carolina in a small town similar to Wickenburg and received her Bachelor of Science degree in Computer Science from Meredith College. She is married to Bryce (WHS Class of '93) and has two children. She is an avid supporter of our local schools and Wickenburg town activities. She works from home full-time in IT and teaches dance part-time.

Ron Alexander, Board Member
Mr. Alexander is a retired US Naval officer and pilot. He is married with three grown daughters and three grandchildren. He grew up in Oklahoma in a rural community and attended a small rural school for 12 years. He graduated from Oklahoma State University prior to entering the Navy. He volunteers at Festival Foothills Elementary school and has given presentations at the school on the US Navy and aviation. He is a University of Arizona trained Maricopa County Master Gardener and provides information and training to clubs on landscape topics.