Additional Enrollment Information
New students will need to provide the following documents to their school:

Withdrawal form from previous school, if applicable
Unofficial transcript
Immunization record
Proof of Residency
Official Birth certificate
Previous school's name, address and phone number
Current IEP or other Special Education records
Disciplinary records

If you have a specific question regarding requirements or need some assistance, please contact the school your child will be attending directly. They will be glad to help you.

Hassayampa Elementary School 928-684-6750
Festival Foothills Elementary School 928-501-6000
Vulture Peak Middle School 928-684-6700
Wickenburg High School 928-684-6600
Wickenburg Virtual Academy 928-684-6717
Immunization Requirements
Arizona state law requires that all students be completely immunized before attending school. Arrangements for immunizations can be made with your family physician or the county health department. We will have to exclude students from school who have not been immunized in the event of an epidemic. For an exception to the immunization requirement, please complete the special forms that are available in the health office.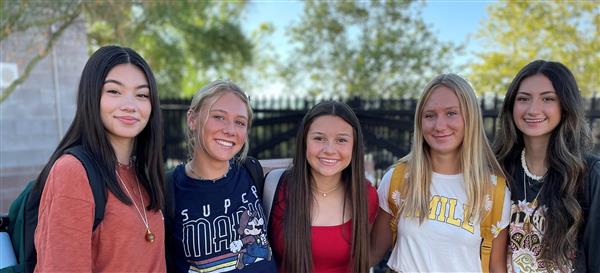 Enrollment Process
WELCOME to Wickenburg Unified School District! Thank you for choosing to register your child(ren) in our District. There are several registration options.

RETURNING STUDENTS

Each school year, online enrollment needs to be completed for current WUSD students.

NEW TO WUSD
For parents NEW to Wickenburg Unified School District, choose the Online Enrollment button on the left and first set up a ParentVue account to begin your registration. If you prefer paper forms, please reach out to your school of choice.

ADD ANOTHER CHILD
Parents who have had a student previously at a Wickenburg USD school can add a new student via the Parent Portal by using the Online Enrollment button and logging in.

Arizona State law allows students to apply for admission to any Wickenburg Unified school regardless of where you live based on available classroom space. Please contact the school of choice to begin the

open enrollment process

.

PRESCHOOL ENROLLMENT
We are pleased to offer excellent preschool programs at both our elementary schools, Festival Foothills located in Buckeye AZ and Hassayampa Elementary in Wickenburg AZ. Choose Preschool Enrollment to receive more information on the preschool of your choice.
Student Insurance
Our school district has selected the Student Insurance Plan from United Healthcare to make reliable coverage available to parents. You can purchase coverage at any time during the school year by visiting K&K Insurance's website.