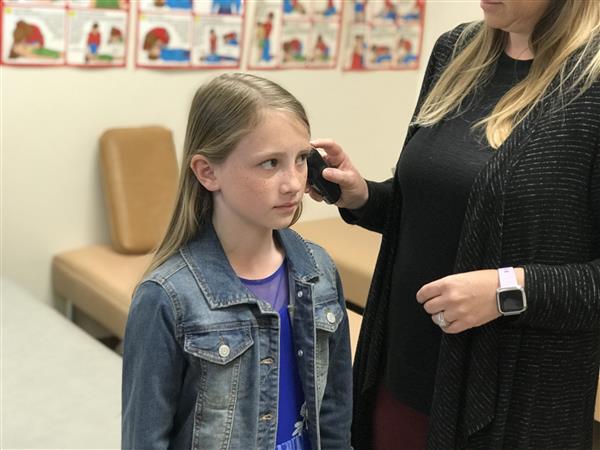 Food Service during School Closure
A HUGE THANK YOU TO THE MANY INDIVIDUALS THAT BROUGHT FOOD TO OUR KIDS DURING SCHOOL CLOSURE AND SUMMER
WUSD and Southwest Food Service employees, plus volunteers teamed up to provide Grab and Go meals Mon -Thurs to kids in the community during school closure in the spring and summer.
Check out the numbers:
9,076 MEALS
14 WEEKS
9 LOCATIONS
Led by Debra Loder and the school counselors, community members and more WUSD staff joined forces to provide over 1000 additional food packages for families for the weekends.

YOU are inspiring and YOU made a difference in many lives.
Update on Coronavirus - COVID-19
March 20, 2020

Dear WUSD families.

In my last communication letter to you I shared that I would keep you posted on the most current information regarding our schools. Today, Governor Ducey and Superintendent of Public Instruction Hoffman announced an extension of the Arizona schools' closure in the following statement:

"Today, we are jointly announcing the extension of school closures through April 10, 2020. Our goal is to get kids safely back in the classroom as soon as possible while providing parents and educators certainty so they can plan and make decisions. We will continue to work together to determine what's best for Arizona kids and schools in the face of COVID-19…..It's important for families and parents to know that while this extension will continue to address operational issues, school closures will not stop the spread of COVID-19. The safest place for children during this time is at home."

As per Governor's Ducey's announcement, WUSD schools will now be closed through April 10. I mentioned in my last letter that if school closures extended beyond March 27, we would begin educational programming for our students. Our teachers, administration and staff will be working the week of March 23-27 to prepare an educational program which will enable our students to maintain their skills during the school closure period. We plan to begin implementation on March 30, 2020. Be on the lookout for a letter from me and information on our website in the coming week, which will outline the educational programs that the administration and staff has put together. We do ask for your patience as we implement programming to meet your student's needs. This is new for all of us.

We encourage all our families to continue to follow guidelines to stay healthy and protected from COVID-19 (coronavirus). Please continue to look for communication from the district and stay connected. These are definitely unusual times and we appreciate your support and look forward to navigating them together.

As always, if you have questions about this letter, or our educational programming once implemented, please feel free to reach out to Debbie Hodgkiss, WUSD's Executive Director of Educational Services at dhodgkiss@wusd9.org .

Sincerely,

Dr. Howard Carlson
Superintendent
Wickenburg Unified School District

---

March 19, 2020

Dear Parents and Guardians,

I want to provide you with a quick update regarding WUSD's current efforts related to COVID-19 (Coronavirus) and to clarify our plans for the week of March 23-26. It is my intent to provide periodic information as time progresses and encourage you to look at our website (www.wickenburgschools.org) or Facebook page (Wickenburg Unified School District) for updates too.

Our staff has been actively engaged in implementing our school closure plan and as part of that effort deep cleaning of classrooms, facilities and buses has been occurring. We are ensuring that all areas within our schools and vehicles have been disinfected.

We have a plan in place to distribute boxed lunches/breakfasts starting Monday, March 23 for those in need (a second letter will be coming out on this item soon). We have worked with the Arizona Department of Education on this issue and they have approved delivery locations at Hassayampa Elementary, Festival Foothills Elementary, Wickenburg High School and the bus stop located on Patton Road and 299th Avenue.

Food will be individually distributed to those in need using curbside delivery at these locations and this service will be provided between 9:00 a.m. and 10:00 a.m. Monday through Thursday. Children will need to be present. Look for more information regarding how to order food for your children in the near future. We are individually reaching out to families on our weekend food box distribution list and will be making arrangements for their needs.

In addition, we are working with our neighboring districts who are establishing food distribution sites in Aguila, Congress, Morristown and Nadaburg. By Sunday, March 22, you will find a comprehensive list of all delivery locations on our website at www.wickenburgschools.org/food

We do not plan to provide educational services during the week of March 23-27, but will be working with principals and teachers to design educational resources if the closure extends beyond March 27. We have not been apprised by the Governor's Office, or the Arizona Department of Education, regarding an extension of the closure time period. If that changes in the coming week we will provide information to you as quickly as possible.

If you have questions regarding any of these services I encourage you to reach out to our Executive Director of Educational Services, Debbie Hodgkiss, who is coordinating our operational response during this period of school closure. Debbie can be reached by emailing dhodgkiss@wusd9.org

We continue to work with the Governor's Office, the Arizona Department of Education, the State Department of Health, the Maricopa Department of Health and local authorities in responding to the virus. It is our goal to keep our students and staff safe during this time period and we thank you for your patience as the pandemic continues to evolve. New information is being received each day and our response remains fluid. Together we will get through this situation and hopefully minimize the impact on our students, families and community.

Sincerely,

Dr. Howard Carlson
Superintendent
Wickenburg Unified School District

---

March 15, 2020

Dear Families of Wickenburg Unified School District,

Governor Doug Ducey and the Superintendent of Public Instruction have jointly announced the closing of all schools in the state from March 16 to March 27.

The Wickenburg Unified School District will be CLOSING all schools including Hassayampa Elementary, Festival Foothills Elementary, Vulture Peak Middle School, Wickenburg Virtual Academy and Wickenburg High School due to the current situation with the Coronavirus/COVID-19.

We are continually monitoring the situation and working with local, state and county health departments. Current information can be found on our website www.wickenburgschools.org and the District FaceBook (Wickenburg Unified School District). Our main concern is always for the health and safety of our students, staff and families. Information will be forthcoming on food assistance, etc.

We ask for your patience in this matter and encourage families to continue to follow health guidelines for cleanliness and to follow the CDC (Center for Disease Control and Prevention) guidelines for social distancing to avoid situations where the risk of the disease may spread. https://www.cdc.gov/

Dr. Howard Carlson
Superintendent
Wickenburg Unified School District


---

March 12, 2020

The Coronavirus/COVID-19 remains a fluid situation and The Wickenburg Unified School District continues to monitor it day-by-day. We will be taking an abundance of caution to minimize the spread of any illness, including influenza. Over spring break we will perform deep cleaning and continue with routine cleaning, such as disinfecting frequently touched surfaces at our schools with approved cleaning products. We appreciate the work of our custodial staff in to keep our buildings clean as well as our site health aides for the role they're playing as a vital medical resource for our schools.

Our administration is working closely with local and state agencies to monitor the progression of this ever-changing environment. We are coordinating efforts with the Arizona Department of Health Services (ADHS) to slow the spread of the virus and ensure students and employees have safe and healthy learning environments.

Should the spread of COVID-19 increase, the Wickenburg Unified School District is working in collaboration with local agencies and has plans in place for various actions that may be required in response to the Coronavirus and are ready to take action, as needed, to ensure the safety of our students and staff. On March 12, the Arizona Department of Health Services and Arizona Department of Education recommended that schools do not close. We will continue to follow the ADHS and Maricopa County Department of Public Health and will keep you updated with any developments that might impact our community or schools.

Please help to keep our students and employees safe by staying informed, practicing good hygiene, and staying home when sick. It takes all of us working together to ensure healthy learning environments.

Over spring break, we'll continue to monitor the situation closely and post updates. This space will remain your official source for information.